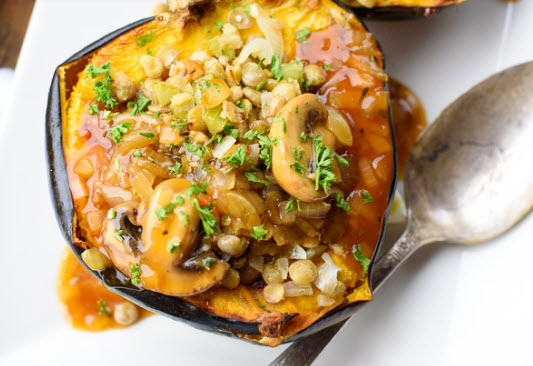 Ingredients
4 medium Acorn squashes
1 cup dry green lentils , soaked overnight and rinsed well
2½ vegetable broth
2 tablespoons coconut oil
2 garlic cloves, minced (optional)
1 small onion, finely diced (optional)
2 carrots, finely diced or grated
1 celery stalk, finely diced
1 heaping teaspoon dried thyme
½ heaping teaspoon cumin
Freshly cracked pepper
Sea salt, to taste
Directions
Cut acorn squash in half. Brush thinly with coconut oil. Roast at 400 degrees until fork tender.
Heat a large pot of 2½ cups broth and start cooking lentils. Bring to a boil, reduce heat, cover and simmer for about 40 minutes, stirring occasionally. Once done, remove lid and set aside to cool-but do not drain. The lentils will thicken a bit upon standing.
In a pan, heat coconut oil over medium heat. Saute garlic, onion, bell pepper, carrots and celery
for about 5 minutes. Add spices mixing well to incorporate. Set aside to cool.
Combine sauteed vegetables with the lentils and mix well. Taste, adding salt and pepper as needed, or any other herb or spice you might like.
Spoon mixture into squash halves. Top with mushroom gravy.
Notes
Mushroom Gravy recipe:
2 tablespoons coconut oil
1 cup diced yellow onion
2 medium cloves garlic, peeled and minced
1 pound baby bella (cremini) mushrooms, thinly sliced
2 cups low-sodium vegetable broth or filtered water
3 tablespoons organic tamari (preferably low sodium)
3⁄4 teaspoon minced fresh thyme
2 tablespoons arrowroot starch or tapioca starch
Sea salt, to taste
Freshly ground black pepper, to taste
Heat the coconut oil in a medium saucepan over medium-high heat. Add the onions and garlic and sauté, stirring frequently, for about 4 minutes, or until the onions are lightly brown. Stir in the mushrooms and sauté for 5 minutes more, or until the mushrooms are tender.
Next, add the vegetable broth, tamari and thyme to the mushroom-onion mixture. Bring the mixture to a boil over medium heat.
Then lower the heat to medium-low and simmer, covered, stirring occasionally, until it thickens, about 25 minutes.
Stir in the arrowroot starch and cook the sauce, stirring frequently, for another 5 minutes. Transfer the sauce to a blender and puree for a smooth consistency.
Season the sauce with salt and pepper. Pour the sauce over the reserved cauliflower and serve at once.