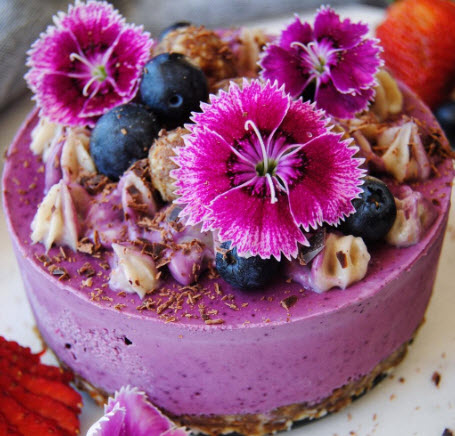 Cooking Time
4 hours in freezer
Ingredients
Base
1/2cup almonds

2 tbsp coconut

1/2 cup dates

tiny pinch of salt

Filling
1cup cashews, preferably soaked

1/4 cup rice malt syrup

2 tbsp lemon juice

2 tbsp water

1/4 cup coconut oil, melted

1 cup fresh or 3/4 defrosted berries

1 tsp vanilla bean powder

Fresh berries, to decorate

Raw Chocolate shavings

Directions
Base
Line base of amini springform pan
Pulse almonds to small pieces
 Add remaining base ingredients & process to combine
Press mixture into the base. Reserve some for the topping
Filling
Blend all ingredients except berries in a high-powered blender until completely smooth. 
(Do this next step only if you want the vanilla-berry piped topping. Reserve bit of the vanilla mixture & set aside). 
Add berries & blend until smooth.
Reserve some berry mixture, & place both in the fridge. 
Pour mixture into the pan & tap to remove air bubbles. 
Place in freezer to set for a minimum of 4 hours.

Topping:
Remove cheesecake from the tin. 
Fill a piping bag with fillings on separate sides. With a knife, swirl the two mixtures together slightly. 
Pipe mixture onto the cheesecake top wherever you desire. 
Arrange the balls of base mixture on top of the cake along with berries & shaved chocolate. 
Defrost before serving.