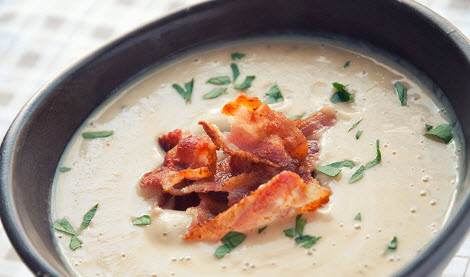 Ingredients
2 heads of cauliflower, cut into florets;
3

 

garlic

 

cloves, minced;
2 shallots, minced;
3 cups

 

chicken stock;
1 cup water;
1 bay leaf;
1 tsp. dried thyme;
2 cups full-fat coconut milk;
4 cooked bacon slices; cut into pieces; (optional)  *Avocado is a good substitute
1 tbsp. olive oil or

 

ghee;
Fresh parsley for garnishing;
Sea salt and black pepper to taste;
Directions
Preheat your oven to 425 F.
In a large bowl, combine the cauliflower, garlic, shallots, and olive oil.
Spread the cauliflower mixture on a roasting pan.
Place the roasting pan in the oven and roast  for 30 minutes.
Transfer the cauliflower to a large saucepan and add the chicken stock and water.
Add the thyme and the bay leaf, and bring to a boil over a medium-high heat.
Cover the saucepan. Lower the heat and let it simmer for 30 minutes.
Remove the bay leaf.
Puree the soup using an immersion blender or a blender.
Stir in the coconut milk and season to taste with sea salt and freshly cracked black pepper.
Top each bowl with crispy bacon, if desired, and sprinkle with fresh parsley. Serve warm.