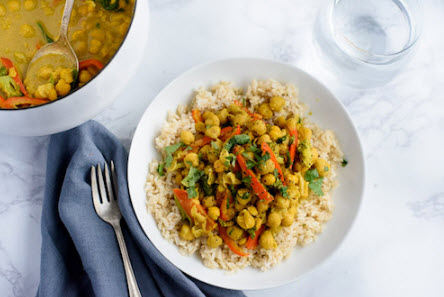 Ingredients
1 Tbs. coconut oil
1 inch piece fresh ginger, peeled and grated
1 tsp. curry powder
1 tsp. ground cumin
½ tsp. ground cinnamon
½ tsp. ground coriander
½ tsp. Turmeric
1 ½ cups coconut milk
15-oz. cooked chickpeas, drained and rinsed (if buying pre-cooked, please try to source a
carton vs. a can)
2 small red bell peppers, seeded and thinly sliced
½ cup chopped broccoli
Sea salt, to taste
Freshly ground black pepper, to taste
½ cup spinach
¼ cup chopped fresh cilantro, plus more for serving
1 cup germinated brown rice
Directions
In a medium saucepan heat coconut oil. Add ginger, curry powder, cinnamon, coriander, and turmeric and cook for 2 minutes stirring constantly until fragrant.
Add coconut milk and whisk vigorously to incorporate.
Add chickpeas, bell peppers, and broccoli and simmer for 10 minutes.
Taste and season with salt and pepper to taste.
When ready to serve add spinach and cilantro and toss to incorporate.
Serve over germinated brown rice.